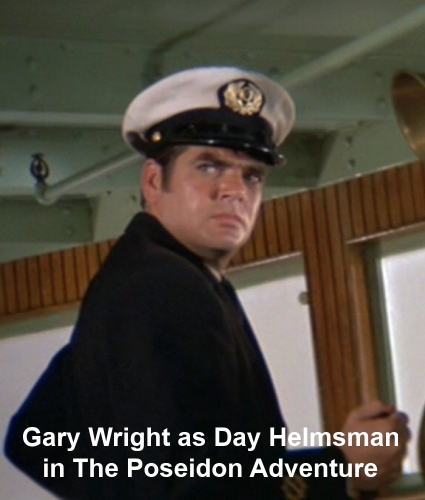 After years of painstaking research (and yet more pain when a Columbo end credit mis-named him as "Jimmy Pelham") we have finally managed to identify and verify the actor playing the Day Helmsman in The Poseidon Adventure. His name is Gary Wright and we're spending a lot of time trying to find out more about him. Identifying uncredited cast in the Irwin Allen shows and movies is an immense task and with the help of a team of fellow fans we're managing to identify more and more. It takes watching a lot of other movies and shows to find out actor names.
On this occasion (after the Columbo "Dead Weight" end credit debacle) we have finally worked out Gary Wright's name from the only other verifiable end credit there is for him (the movie Foxy Brown with Antonio Fargas) and a little Columbo clue. Perhaps appropriate as this has taken so much detective work. The clue comes from the Columbo episode "Now You See Him" starring the wonderful Jack Cassidy as illusionist The Great Santini. In the episode, Santini actually calls Gary Wright "Mr Wright". Normally we wouldn't think anything of that, but in the episode another Irwin Allen actor, Mike Lally, is given the character name "Michael Lally".
For completeness, here is Gary Wright's end credit in Foxy Brown. Note that Don Gazzaniga (giant in the Land of the Giants episode Weird World) also appears in the movie.
Gary Wright also appears very briefly as an engineer in The Towering Inferno.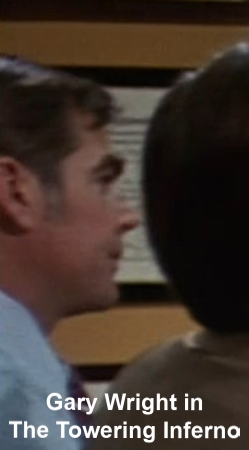 We've developed a deep affection for Gary as we search out more and more credits for him (so far all in the early to mid 70s). One of the funniest is a little known uncredited appearance in a movie called Get to Know Your Rabbit where Gary causes havoc around star Tom Smothers whilst being chased and caught. Have never seen our helmsman move so fast. Normally he is standing very still.
Our deep appreciation goes to everyone sending in names for background characters who don't normally get named and credited in productions. These characters, plus stunt people and production crew are the unsung heroes of the Irwin Allen productions and we want them to be recognised for their work and to be remembered. Special thanks go to Phil Arnold and Woody Anders for their recent input in trying to get to these long searched for names. This is going to be an endless task as there are still so many more people we have yet to identify.