The Big Circus Broadcast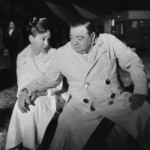 The Big Circus is to be shown on BBC2 in the UK on Saturday 5th December at 2.45pm.  This is the first British airing of the movie in many, many years.
The Big Circus stars Victor Mature, Vincent Price, Rhonda Fleming, Peter Lorre, Kathryn Grant, Red Buttons, and was the first Irwin Allen movie that costume designer Paul Zastupnevich worked on.