The second and final volume of Marc Cushman and Mark Alfred's series of books on the making of Irwin Allen's Voyage to the Bottom of the Sea is now available.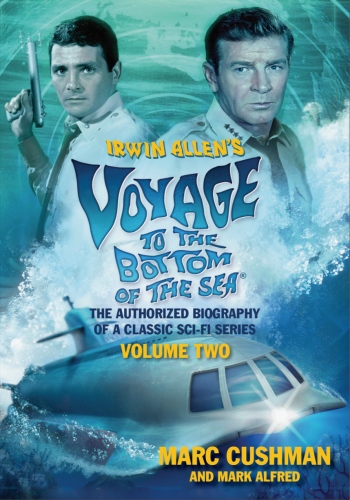 Irwin Allen's Voyage to the Bottom of the Sea, Volume Two: The Authorized Biography of a Classic Sci-Fi Series, from Jacobs/Brown Press, completes the two-book set by Marc Cushman and Mark Alfred, documenting the production and cultural impact of this iconic, beloved and pioneering science-fiction series.
Voyage to the Bottom of the Sea, which aired on ABC-TV from 1964 through 1968, was the first hour-long, color, science-fiction series on television. Its success proved to the networks that such a show, within the constraints of a TV budget and shooting schedule, could attract a mass audience. Without Voyage, there would have been no Lost in Space or Star Trek. CBS and NBC, respectively, only decided to gamble on those series after Voyage had not only premiered – while staying on budget and schedule – but went on to win its time slot. ​Therefore, it was Irwin Allen who had boldly gone where no man (or television producer) had gone before!
Now, with Volume 2 and the previous volume as your guides, you can journey back in time to witness the making of this legendary series. Here you'll find the production memos between Irwin Allen, his staff, and the ABC-TV network; the shooting schedules and production dates; the budgets; the ratings; the reviews and articles from that era; new and exclusive interviews, as well as archival interviews; and hundreds of pictures, many never before shared with the public. And you'll find out what made Irwin Allen tick.
With an introduction by David Hedison, Volume 2 covers the making of Seasons 2, 3 and 4 – all 78 color episodes! Your deep dive into Voyage to the Bottom of the Sea is here.
The book is available both through Jacobs/Brown Press and Amazon in the US, UK and Australia.